An extraordinary professional opportunity to connect and grow for healthcare pros.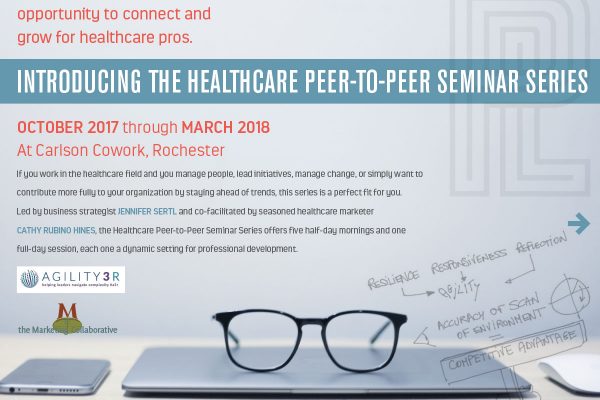 October 2017 through March 2018
At Carlson Cowork, Rochester
If you work in the healthcare field and you manage people, lead initiatives, manage change, or simply want to contribute more fully to your organization by staying ahead of trends, this series is a perfect fit for you.
Led by business strategist JENNIFER SERTL and co-facilitated by seasoned healthcare marketer
CATHY RUBINO HINES, the Healthcare Peer-to-Peer Seminar Series offers five half-day mornings and one full-day session, each one a dynamic setting for professional development.
Insight-rich. People-powered.
Designed to keep you connected to your profession, your industry, and your peers, each session offers:
Peer learning from a roomful of experienced professionals
Enhanced awareness of trends affecting healthcare
Greater understanding of change management
Best practices for making dynamic business decisions
Insight for elevating leadership impact
Clarity on personal branding and an executable roadmap
A curriculum that speaks to you.
Learn things like how to identify your unique contributions. How to leverage collective talent in your organization. How to get departments working together better. And how to build your personal brand.
Session I (October. '17): The Power of Cross Pollination
Session II (Nov. '17): Now Discover Your Strengths
Session III (Dec. '17): High Performing Teams & Team Dynamics
Session IV (Full day, January. '17): Interplay Business Simulation
Session V (Feb. '18): Creating Strategic Value
Session VI (March. '18: Strategy, Leadership & Soul
The cost for the Healthcare Peer-to-Peer Seminar Series is $3,000 which includes 6 additional one-hour individual coaching sessions with Jennifer Sertl.